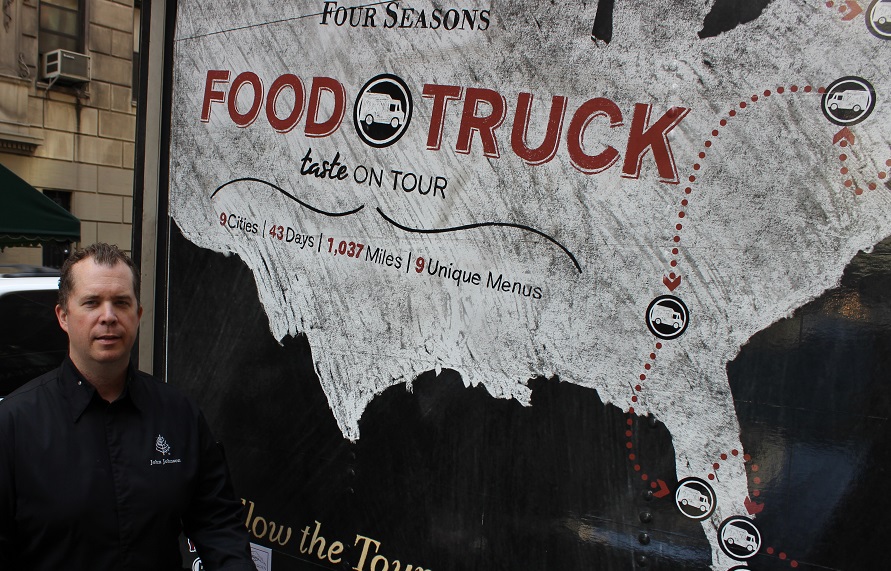 Tweet
Meet Executive Chef John Johnson, the man who was behind the menu at the Garden Restaurant at the Four Seasons hotel in New York. Most recently Johnson was serving up those famous meals in a food truck which was part of the successful Four Seasons east coast truck tour. In my interview with Johnson, he discusses everything from his favorite dish to creating kale salad on a cone & working under Geoffrey Zakarian . Please Enjoy!
1. At what age did you realize you had a passion for cooking?
Johnson: I used to spend many days with my Grandmother from a very young age. I can't remember exactly the age, but it must have been around 5 or so. I remember her making her famous Angel Food Cake, and watching the care she gave every single step of it's delicate process. I think that moments and many others like that really is where it all began.
2. Can you explain to our readers the exact role of an Executive Chef?
Johnson: An "Executive Chef" is a very broad term. It completely depends on the operation. My current position is truly a little bit of everything every day. Mostly coaching, teaching, organizing, sourcing, and managing a large team of talented individuals while keeping a constant eye on innovation/ creativity, and business operations for all of our food and beverage outlets prosperous futures.
3. What was it like working under Geoffrey Zakarian?
Johnson: In a single word truly Amazing. Geoffrey has such an amazing talent, and mind for food. He was always pushing himself, and me to learn, and see new and different things while always having true reverence and respect for the craft. Geoffrey taught me many, many great things, but the one that will always stick with me is to work hard, and always challenge yourself, as you are only as good as your last meal.
4. The four Seasons food truck tour was an instant hit with foodies around. Was that your first time operating a mobile station and how was the experience?
Johnson: It was my first time officially and was a great experience. It allowed us to speak to a larger audience & I think it gave customers an approachable feel.
5. You put a unique twist to the kale salad by stuffing it in a cone. Can you tell us how that came about?
Johnson: I wanted to offer something healthy, that is also a signature dish, but present it in a fun, and easy to eat way. The cone is the perfect vessel for this salad, as the salad actually gets better when it sits dressed for a few minutes before eating. The cone makes the last bite the best.
6. Most popular Dish served at The Garden Four Seasons?
Johnson: Aside from the Kale Salad, I would say the Duck Steak Salad, or the Gotham Burger.
7. Any other cities or countries you served as Chef or Executive Chef?
Johnson: I worked in Washington D.C. as consulting Executive Chef for Leopold's Kafe & Konditorei, and L2 Lounge, and Also In Atlantic City as Executive Chef at the Water Club at Borgata
8. Where was your most recent Vacation?
Johnson: Disney Land in Orlando, Florida with the kids
9. Name one of your personal favorite meals?
Johnson: Truffle dinner in Puymeras France, after truffle hunting, and purchasing truffles in the market. Myself and 3-4 other chefs prepped the day before at the Truffle King, Mr. Herve Poron's house. A truly mind blowing experience. The cheese course was a 2 Kilo Boule bread hollowed out and filled with fresh truffle breakings, then soaked with truffled Banyuls vinegar in the center of the table, while we each had a pot of St Marcellin as fresh as could be…
10. Will there be a cookbook in the works anytime soon?
Johnson: The idea for a Four Seasons Cookbook has definitely been tossed around but nothing yet. I did have the pleasure of writing the Town & Country Cookbook with Geoffrey Zakarian a few years back which was an amazing experience.